Association of Korea-USA Friendship Alliance promote economical and social and cultural multi-faceted exchange between USA and Korea to promote Friendship and to strengthen Korea-USA Alliance through mutual understanding and friendship exchange.
Since 14 February 2007 when this Association of Korea-USA Friendship Alliance established as a pure non-government organization has been promoting close friendship exchange for mutual understanding in economic and culture and security.
At present, International political and economical situation has been changed rapidly. It make the new unexpected phase of challenge to Korea-USA Friendship Alliance.
Now,we are standing at the important time to make more efforts to keep stronger Korea-USA Friendship Alliance than any time before.
We, as a non-government communication window for both Korean and USA people who have loved each country as a good neighbour and a best blood shared friend, will do our best efforts to keep our democracy and peace and freedom through closer relationship of Korea-USA Friendship Alliance.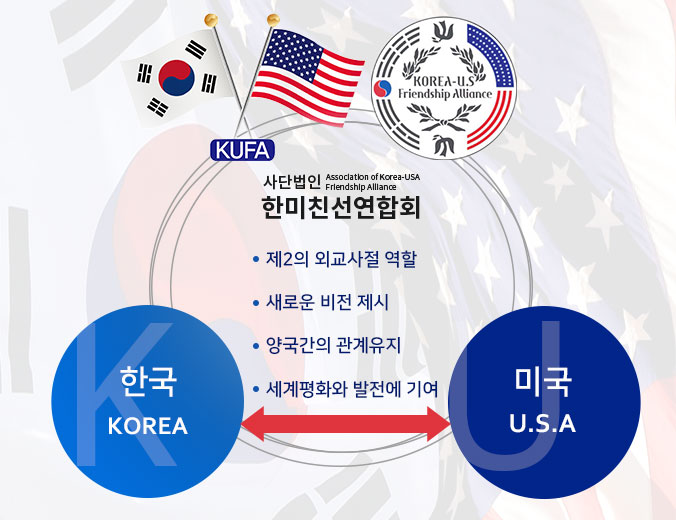 ◎Main Project of this Association

1.Purpose of Project

The Association of Korea-USA Friendship Alliance ("KUFA") has the purpose to strengthen Friendship Alliance relationship between Korea and U.S.A. through non-governmental various friendship exchange programs by inviting VIP of USA or visiting 8th USA Army and Embassy.
We are supporting the exchange program by individual or group who want to understand more about the culture and language of each country.
We organize various exchange programs in culture,arts,literature,economics and society to understand more each other and also keep cooperative relationship with similar purposed organizations in both countries and do various projects to enhance mutual understanding.

2.Projects

- Memorial projects for the USA soldiers died in Korean War
- Excavation projects to find USA soldiers in Korean War
- Memorial projects for the unknown USA soldiers died in Korean War
- Project for the family reunion of USA soldier lost in Korean War
- Invitation of USA VIP for the seminar
- Korea-USA friendship joint music concert
- Visit to USA Army base, Naval base and Air Force base and DMZ
- Organizing seminar for present issues and problems between Korea-USA
- Awarding Contributor for the Korea-USA Friendship Alliance
- Opening Korea-USA Friendship Night